If any of you Apple fans have warm, fuzzy memories of the man who introduced the company's iconic products to the world, we recommend that you turn away from your computer.
As many of you might recall, there's a biopic in the works titled "jOBS" starring "Two And A Half Men" lead Ashton Kutcher. The first promotional art for the film hit the web on Monday, and…
Sorry, we got distracted. Kutcher's eyes just have a way of piercing right into your soul.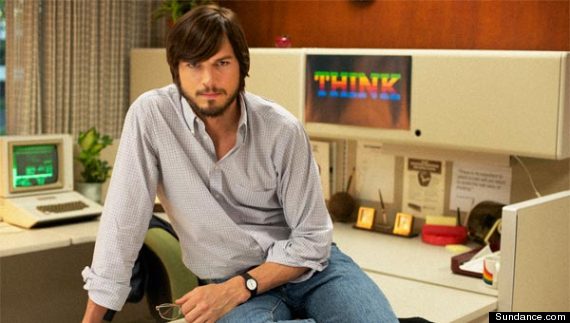 This promo image appeared Monday on the website of the Sundance Film Festival, which is scheduled to run from Jan. 17 to Jan. 27 in Park City, Utah. The organizers of Sundance have also announced that "jOBS" will be the fest's closing event, according to The Hollywood Reporter.
If Kutcher as Jobs is giving you a bout of déjà vu, it should. The photo is based on a nearly identical picture of the man himself, seen here. That photo was taken in 1981-82, according to AllAboutSteveJobs.com.
A separate Steve Jobs film, written by "West Wing" creator Aaron Sorkin and based on Walter Isaacson's biography of the late Apple co-founder, is also currently in the works.