Say what you will about Beyonce, but she knows her way around a nice internet gesture. After Beyonce postponed a show in Antwerp, Belgium on doctor's orders, the singer took to her website to send a note to her fans.
Beyonce's apology came in the form a of a handwritten note: "I've never postponed a show in my life. It was very hard for me. I promise I will make it up very soon. I'm sorry if I disappointed you. Thank you for your concern. I'm feeling much better now and I'm ready to give you a great show."
The cancellation of Tuesday's show immediately added fuel to rumors that Beyonce is pregnant with her second child. She has yet to address those rumors, though many a magazine has quoted "sources" close to Beyonce's camp who have denied the story on her behalf.
Though the note ends with "See you tonight," it's worth noting that Beyonce had two shows scheduled in Belgium. That means that fans who bought tickets to the first one are apparently still out of luck, for now.
This is hardly the first time Beyonce has posted a handwritten note on her Facebook, website or Instagram. She has previously posted appreciations of Michael Jackson, Barack Obama and Michelle Obama. She also posted a note in support of gay marriage.
The Mrs. Carter Show, Beyonce's world tour, has many shows left on its European leg before landing in Los Angeles on June 28. The tour will conclude with a string of August dates at Brooklyn's Barclays Center.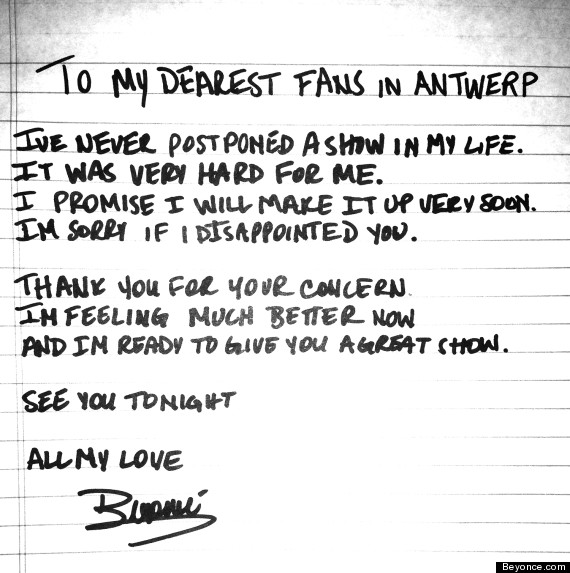 By Kia Makarechi