Didn't get enough superhero action despite Avengers strutting out nearly every caped crusader ever?!
Neither did we—we want more, more, more! We loved Joss Whedon's Hulk-bashing box  office smash so much that we're itching to see where the next installment—yes,  the sequel is already a go—takes Captain America, Iron Man and the whole  gang.
That, and what's in store for the super hunks (Chris  Hemsworth, Robert  Downey Jr., etc.) when they're not assembled. So we've rounded up  some hot scoop on all our most anticipated movies. Spoiler-phobes, be warned!  The rest of you? Let's get down to business…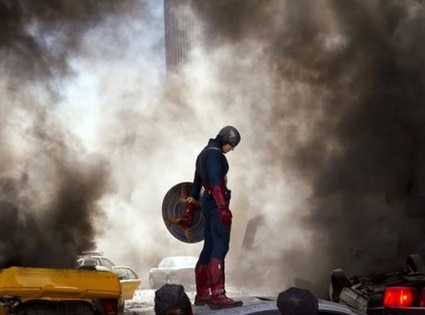 Expect Avengers 2 To Be Bigger…Much Bigger!
While details are relatively scarce about the second installment  in the super-series (hey, the first one did just come out, after all),  we have plenty of questions: Will our beloved Iron Man return for another  serving of shawarma? Will evil alien Thanos be the big bad?! Jon Favreau—who is  exec producing the project—let us in on a bit of money talk:
"Avengers every week just seems to build in momentum," he reveals.  "Iron Man, the first movie at Marvel Studios, the budget was very  challenged and we didn't know if it would go beyond one film…And now to see  finally with Joss Whedon's film that all those characters come together and the  audience around the world loves it and it's doing such good business."
Which means the studio will simply be throwing fifties and hundreds…and  hundreds (of millions) at A2, right?! We think yes! Who knows, maybe  the Hulk will be smashing in 4-D next time we see him!
Could Iron Man 3 Pit Tony Stark Against…Mel  Gibson?!
While RDJ's Iron Man isn't officially signed on to join his S.H.I.E.L.D. buddies  in a sequel  (we're guessing yes as he reportedly is racking in $50 mil), he will get a third installment in his  own franchise. And Favreau, director of the first two films, tells us it's going  to be a blast…or should we say "Bang Bang."
"Iron Man 3 is directed by Shane Black. I was just  meeting with Robert and Shane looking over the script. I'll be involved with it  in other ways as well," John explained. "Shane's got a great, interesting,  unique vision. He worked with Robert on Kiss Kiss, Bang Bang. It's such  a departure from what we've done before."
Which means we're expecting oodles of one liners from this script! As for the  villains? James Badge Dale (24) is set to play cyborgy baddie Coldblood. Plus, Shane's  other big projects were the Lethal Weapon series…so might he be able to  wrangle controversy king Mel Gibson for a part? Wishful  thinking?
Is Thor Ready to Ride Off  Into the Sunset?
Remember that mushy stuff in Thor between Chris Hemsworth and Natalie  Portman? Well, hopefully that was enough to last you a long time,  because the abtastic demi-god put the kibosh on lining up a rom-com for his  post-Thor 2 project.
"No, not really. Unless it was an amazing script," Chris told E!'s Giuliana Rancic  recently while promoting his action-packed Snow White and the  Huntsman. "I haven't read one that sort of jumped out at me. It's not  really a romantic comedy, it's more of a drama, but Jerry Maguire, that  sort of film is great. But it'd have to be as good as that."
Translation: Sorry, Nicholas Sparks, but you'll have to be  content with little brother Liam  Hemsworth as your dreamy eyed lover boy. Because Chris won't be  romancing the Miley  Cyrus-type anytime soon.
Battleship  2 and  Beyond! Will Aliens Strike Again?
Battleship hits theaters this Friday but one of the stars of the  Universal flick is already looking ahead to a sequel: Brooklyn  Decker.
"There's talk, there are rumblings of a Battleship 2," she told us  recently while promoting her non-alien movie What to Expect When You're  Expecting. "I would love to do it. I would start it tomorrow if I  could. Yes."
But here's some scoop you must pay attention too, though if you're  fans of any of the above Marvel movies it'll be nothing new:
"Well at the end of the credits we have a little sneak peek that talks about  aliens still being on the Earth, Brooklyn dishes about what kind of  villains a sequel would see. "There's something that's left over…Stay for the  credits if you see Battleship."
Hey, it was either more aliens or another Hasbro game, right? And seeing any  of those freaks from Candy Land show up to spark another movie might have  been…well, weird.
(E! and Universal are both part of the NBCUniversal family.)
by Kristin Dos Santos, Marc Malkin and John  Boone