You sunk my battleship!
And that's just the start of things as Universal unleashes a new  action-packed trailer for its upcoming summer blockbuster, Battleship,  offering a boatload of details that didn't make it into the two previous  teasers.
Chief among them, just what do these mysterious earth-destroying villains  look like?
A quick glance at the sneak peek reveals that encased in those robotic shells  are some four-fingered extraterrestrials more than happy to move humanity toward  extinction.
Liam  Neeson, Taylor Kitsch, Alexander Skarsgård, Brooklyn  Decker and Rihanna, making her feature film debut, all  try to figure what the heck they're fighting, like this soldier-like terminator  they fished out of the water.
That's soon followed by Neeson barking orders—"Weapons tight. I want  everything loaded"—and for good reason as a host of massive Transformers­-esque vehicles rise from the depths of the ocean.
And their weapons of choice? How about giant spinning robotic cannon  balls  that have the ability to take out whole cities—with Hong Kong  being just the  first stop in a global path of destruction.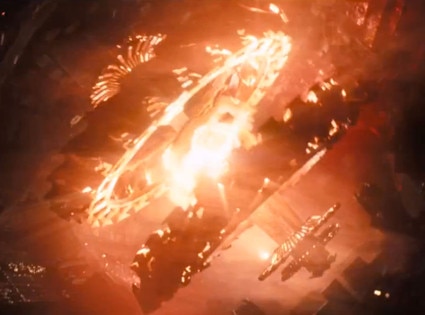 By trailer's end amidst a slew of digital explosions, a battered ship named  the John Paul Jones (after the Revolutionary War naval hero, we presume, not  the Led Zeppelin bassist) heads under the waves in a CGI  sinking .
But we have a feeling that's not the end of the story….