The "Star Trek Into Darkness" trailer is coming soon.
The first "Star Trek Into Darkness" trailer is almost here. Until then, watch this abbreviated trailer "announcement" for the "Star Trek" trailer, which Paramount released in the early morning hours on Thursday.
As with the new poster for "Star Trek Into Darkness," the announcement trailer focuses mostly on Benedict Cumberbatch, who may or may not be playing either Gary Mitchell or Khan depending on which "Star Trek" fansites you read. "You think your world is safe? It is an illusion," Cumberbatch purrs in the announcement as scenes of carnage unfold. "A comforting lie told to protect you. Enjoy these final moments of peace, for I have returned to have my vengeance." Cue up the "Inception" horn.
The full trailer for "Star Trek Into Darkness" is out on Dec. 17. Until then, pore over this detail from the Japanese announcement teaser, which includes an extra bit of footage and dialogue. "Is there anything you wouldn't do for your family?" asks Cumberbatch, presumably of Chris Pine's Kirk, as Kirk and Spock (Zachary Quinto) touch hands together through glass. If that instantly recalls the scene where Spock dies in "Star Trek II: The Wrath of Khan," that may not be an accident.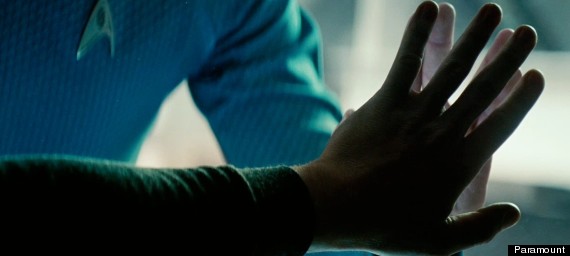 Directed by J.J. Abrams, the "Star Trek" sequel puts Kirk and company in a dire situation. Check out the official plot summary below.
In Summer 2013, pioneering director J.J. Abrams will deliver an explosive action thriller that takes "Star Trek Into Darkness."

When the crew of the Enterprise is called back home, they find an unstoppable force of terror from within their own organization has detonated the fleet and everything it stands for, leaving our world in a state of crisis.

With a personal score to settle, Captain Kirk leads a manhunt to a war-zone world to capture a one man weapon of mass destruction.

As our heroes are propelled into an epic chess game of life and death, love will be challenged, friendships will be torn apart, and sacrifices must be made for the only family Kirk has left: his crew.
Starring Chris Pine, Zachary Quinto, Benedict Cumberbatch, Simon Pegg, Anton Yelchin, Karl Urban, Zoe Saldana and John Cho, "Star Trek Into Darkness" is out in theaters on May 17, 2013. Check out the poster below.
[Click for full-size image]